Plesk WordPress Toolkit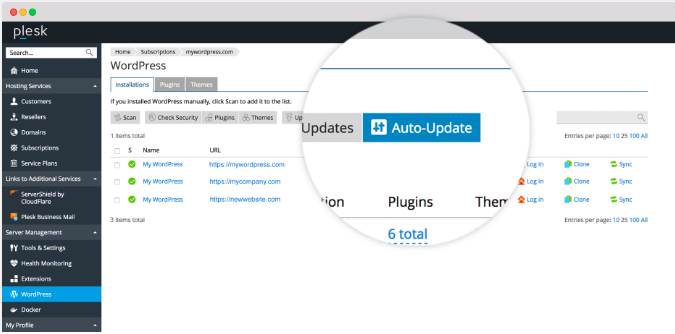 Plesk WordPress Toolkit gives you everything you need to conveniently install and configure your own WordPress website. It practically automates the entire process for you from start to finish. It downloads the WordPress software onto your hosting service, creates the SQL database for the platform, and creates your own personalized admin login information. But, this is just the beginning of what the toolkit can do for you.
In a normal circumstance, someone who runs a WordPress website will want to add plugins, change themes, and make modifications to the configurations. However, they are not going to know how these changes will affect the final appearance of the website until after the changes are made. One advanced feature of the Plesk WordPress Toolkit is that it lets you clone your existing WordPress website into a virtual sandbox space. Here you can test modifications or changes to your website without affecting the real one. This lets you experiment with different ideas for it without causing any downtime or affecting your users' experience in any way. Once you are satisfied with the modifications on the test site, you can migrate these changes over to the real website with just a single click.
Perhaps the best feature of the Plesk WordPress Toolkit is its ability to protect your website from hackers or malware attacks. When you have lots of plugins connected to your WordPress site, they make it more vulnerable to third-party attacks. Most of the security plugins that are free to download will not do a good enough job of preventing attacks. On the other hand, this Toolkit is built with a security scanner which checks for attacks every day. You won't need any security experience to run this feature either. It is automated just like everything else with the Toolkit.
Other notable features of the Toolkit include search engine indexing, debug management, maintenance, and managing your themes and plugins. With prices starting at $9.16 per month, any serious webmaster cannot go wrong with this product.
What is your experience of using the Plesk WordPress Toolkit? Share your opinion below this article.