Plesk WordPress Toolkit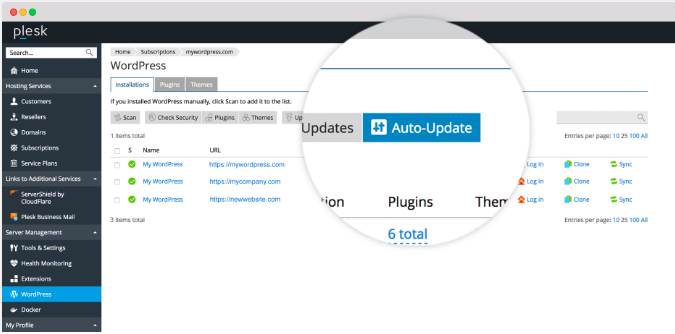 Plesk WordPress Toolkit vam daje vse, kar potrebujete za udobno namestiti in nastaviti lastne spletne strani WordPress. Praktično avtomatizira celoten proces za vas od začetka do konca. Prenosi programske opreme WordPress na vaš ponudnik storitve gostovanja, Ustvari zbirko podatkov SQL za platformo, in ustvarja svoje podatke za prijavo osebno admin. toda, To je šele začetek orodje, kaj lahko stori za vas.
V normalnih okoliščinah, nekdo, ki teče na WordPress spletni strani želite dodati plugins, sprememba teme, in spremembe konfiguracije. Vendar, ne bodo vedeli, kako te spremembe bodo vplivale na končni izgled spletne strani do ko so spremembe. Eno dodatno značilnost je Plesk WordPress Toolkit je, da vam je klon vaše obstoječe spletne strani WordPress v virtualnih sandbox prostor. Tukaj lahko preskušate spremembe ali spremembe na vašo spletno stran brez vpliva na pravega. To vam omogoča, da eksperimentirate z različnimi idejami za to ne povzroča kakršne koli odmore ali ki vplivajo izkušnje uporabnikov na kakršen koli način. Ko ste zadovoljni s spremembami na preskusni poligon, te spremembe lahko selijo na pravi spletni strani s samo enim klikom.
Morda najboljša lastnost je Plesk WordPress Toolkit je njena sposobnost za zaščito vaše spletne strani pred hekerji in zlonamerno programsko opremo napadi. Ko imate veliko plugins, ki so povezani na vašo spletno stran WordPress, da bi bilo bolj ranljive za napade drugih izdelovalcev. Večina varnost plugins, ki so brezplačno prenesete ne bo dovolj dobro delo za preprečevanje napadov. po drugi strani, to orodje je zgrajena z varnostni skener, ki preveri za napade vsak dan. Ne boste potrebovali nobenih varnostnih izkušenj teči to funkcijo bodisi. To je avtomatska tako kot vse ostalo z uporabo priročnika.
Druge pomembne značilnosti orodij vključujejo, iskalnik indeksiranje, Debug upravljanje, vzdrževanje, in upravljanje teme in plugins. Cene se začnejo pri $9.16 na mesec, vsako resno webmaster ne more iti narobe s tem izdelkom.
Kakšne so vaše izkušnje z uporabo je Plesk WordPress Toolkit? Delite svoje mnenje spodaj članek.